Company Profile
---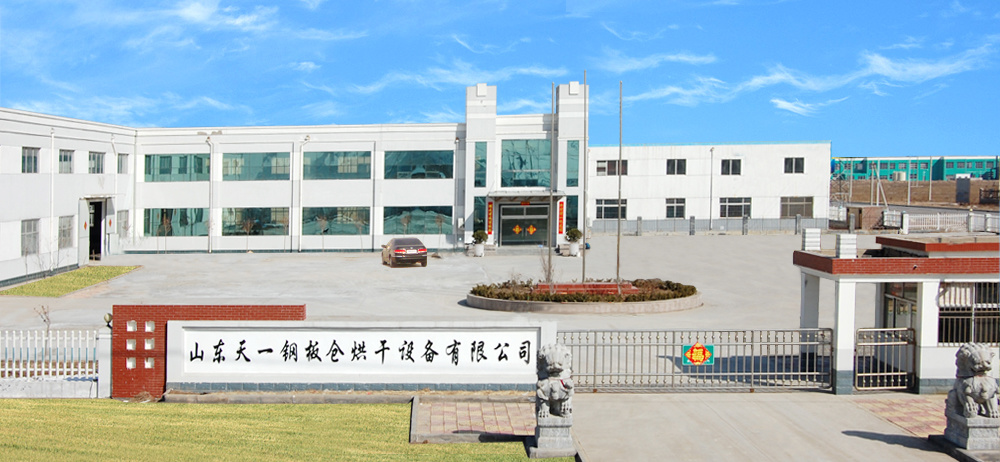 The company is located in the National High-tech Development Zone, Dongying City, Shandong Province, with a registered capital of 5 million yuan and more than 100 employees. The company's employees come from Yingchun Machinery Factory, a former enterprise directly under the Ministry of Agriculture that has been specializing in the production of steel silos for nearly 30 years. On this basis, the company has adhered to and developed the warehousing products of the original enterprise, and used modern management concepts and scientific business models to assemble and build a group of management teams that understand technology, manage and operate well. A production and installation team with a high level of professional technology and a tough style.
Shandong Tianyi Steel Silo Drying Equipment Co., Ltd. has advanced production equipment, multi-roll continuous rolling mills, large hydraulic bending machines, hydraulic shearing machines, 160-ton, 100-ton presses and cold processing machinery, etc., complete sets of rolling and punching equipment, using Standardized production to ensure product quality and reliability. We can provide customers with complete sets of steel silos, dryers and supporting equipment of series specifications, from overall design, manufacturing, installation to one-stop service for after-sales services (mainly including complete equipment process design, steel silo and lifting, transportation, cleaning, Dust removal, drying, temperature measurement, full measurement, ventilation, automation control system and other professional supporting equipment design, installation and commissioning, and can implement the architectural design department for users and provide complete sets of basic design). The company can produce a single storage capacity of 5~ 1000t full steel cone bottom warehouse and 10~ 10000t flat bottom warehouse. The company's products are oriented to feed, rice industry, oil, state storage, port, beer, starch, food, sugar industry, cement and other industries.
In addition, the company can also undertake light steel structure projects; self-operated and agent various import and export businesses.
The company adheres to the corporate culture of "focusing on management, quality, reputation, and commitment", and the corporate development concept of "harmony between man and nature, customer first, win-win cooperation, and diversified development", and builds more high-quality projects with high-quality services and reasonable prices., to win customers from all over the world!
Huang Jijun, chairperson and general manager of the company, and all the staff wholeheartedly welcome customers to come to discuss cooperation. The company will build modern and excellent projects for customers with excellent engineering quality, excellent mechanical equipment and high-quality engineering services, and wholeheartedly provide the industry with high-quality products. and satisfactory service.